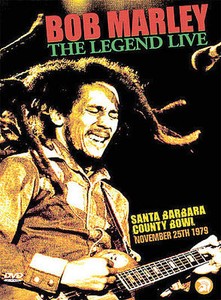 Special Features
Closed Caption; Video overview by Chris Salewicz; "Prophecies and Messages": 51 mins.; "The Fans: A Point of View" (from the Sugar Ray Robinson Foundation Benefit, Roxy Theatre, LA - November 27, 1979): 4.53 mins.; Bonus track: "War/No More Trouble" (6.08 mins.); 
Subtitles: French, German, Spanish, Italian, Dutch, & English HOH
Product Details
Release Date: 

10/7/2003

UPC:

 060768836495

Original Release: 

1979

 

Source: 

Sanctuary Records

Region Code: 

0

Presentation: 

Wide Screen

Time: 

2:34:00

Sales rank: 

0
Cast & Crew
Performance Credits
Thank you very much for taking the time to view this item.
We are more than happy to combine postage charges (where practical) on multiple purchases providing buyer requests a " Invoice Payment Total " for the relevant items .
 We are also more than happy to arrange collection in person on all our Ebay items
Best wishes for a holiday season filled with peace and joy.
If you have any questions, please do not hesitate to contact us!!!